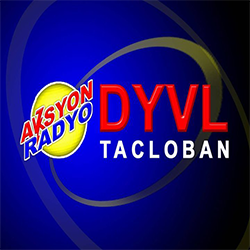 Listen to Aksyon Radyo Tacloban DYVL 819 KHz live
Listen to Aksyon Radyo Tacloban DYVL 819 KHz live
DYVL AKSYON RADYO - AKSYON AGAD
Alternative Streams: Fetching data...
Descriptions
Aksyon Radyo Tacloban DYVL 819 KHz is a radio station owned and operated by Manila Broadcasting Company. DYVL Aksyon Radyo Tacloban is broadcasting at the frequency of 819 kilohertz in the AM band.
Contact
Telephone: +63-53-832-5693
Mobile: Globe 0916-570-0317 smart 0949-899-3349
Email: dyvl_tacloban@yahoo.com
Address: MAHARLIKA HIGHWAY, CAMPETIC RD, PALO LEYTE
Suggestions for Aksyon Radyo Tacloban DYVL 819 KHz
Verification Code

Prove that you're a human

Your Email Address (Optional)

The current time and date in Philippines is
If you're reporting this station as not working, please note that some of the stations are not available 24 hours a day.
Comments