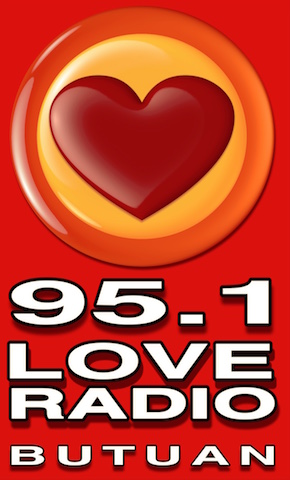 Listen to Love Radio Butuan DXMB 95.1Mhz Manila Broadcasting Company live
Listen to Love Radio Butuan DXMB 95.1Mhz Manila Broadcasting Company live
Always your No.1! Hayahay! Salamat mga Kapwa listeners sa kanunay'ng pag paminaw sa 95.1 Love Radio Sulod sa 25 ka tuig.
Alternative Streams: Fetching data...
Description
A leading radio station in Butuan City for entertainment, news, and information. Now on its new location at the 2nd floor of Cesia Building, Montilla Boulevard, Butuan City, with telephone number (085)8170738 Email address: loveradiobxu@yahoo.com
Suggestions for Love Radio Butuan DXMB 95.1Mhz Manila Broadcasting Company
Verification Code

Prove that you're a human

Your Email Address (Optional)

The current time and date in Philippines is
If you're reporting this station as not working, please note that some of the stations are not available 24 hours a day.
Comments