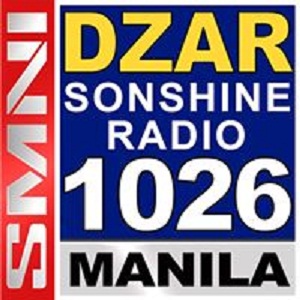 Listen to DZAR Sonshine Radio 1026Khz AM Manila live
Listen to DZAR Sonshine Radio 1026Khz AM Manila live
KAPARTNER MO SA BALITA AT SERBISYO
Alternative Streams: Fetching data...
Descriptions
DZAR Sonshine Radio 1026Khz AM Manila - Owned and operated by Sonshine Media Network International, DZAR Sonshine Radio is a radio broadcaster that has been on air since the late eighties. Its programming is a mix of information, entertainment and religious contents.
Contact
Mobile: +63 927 540 2241
Email: dzar1026@gmail.com
Website: http://www.dzar1026.com/
Address: 3rd Floor, ACQ Tower Building, Santa Rita Street, EDSA Guadalupe Nuevo, Makati City, Philippines
Suggestions for DZAR Sonshine Radio 1026Khz AM Manila
Verification Code

Prove that you're a human

Your Email Address (Optional)

The current time and date in Philippines is
If you're reporting this station as not working, please note that some of the stations are not available 24 hours a day.
Comments